Kenya Spring 2023
Rev. Mark Machado's Missionary Trip
Because of the changes of the laws since the first of the year I needed an visa to enter Kenya which was not needed as of last year. So I had a 2 day layover in London in a hotel. Finally after much time filling on the internet and your prayers, I received it and I arrived on Sunday instead of Friday. Then I took a small plane from Nairobi to Kakamega only a 45 minute flight…
I was teaching the first week on foundations, about repentance, and the baptism of the holy ghost… The congregation did not want to go on break but wanted me to continue teaching the fantastic truth's from God's Holy Word.
God-bless you all and thank you for your prayers and support because of it not only am I going to Uganda this trip while traveling in Kenya, but the doors have opened to also go to Tanzania for next year, and to do Gifts of the Spirit training courses in all these three African nations. Praise the Lord,God of Israel forever! Thanks to Bishop Obed here in the photo, who is helping arrange these fantastic missionary trips.
Here are our daily class teachings uninvited guests…
Shinyalu, Kenya. After preaching the message of Faith, almost the whole congregation came to receive the Baptism of the Spirit and the gift of tongues! Praise God!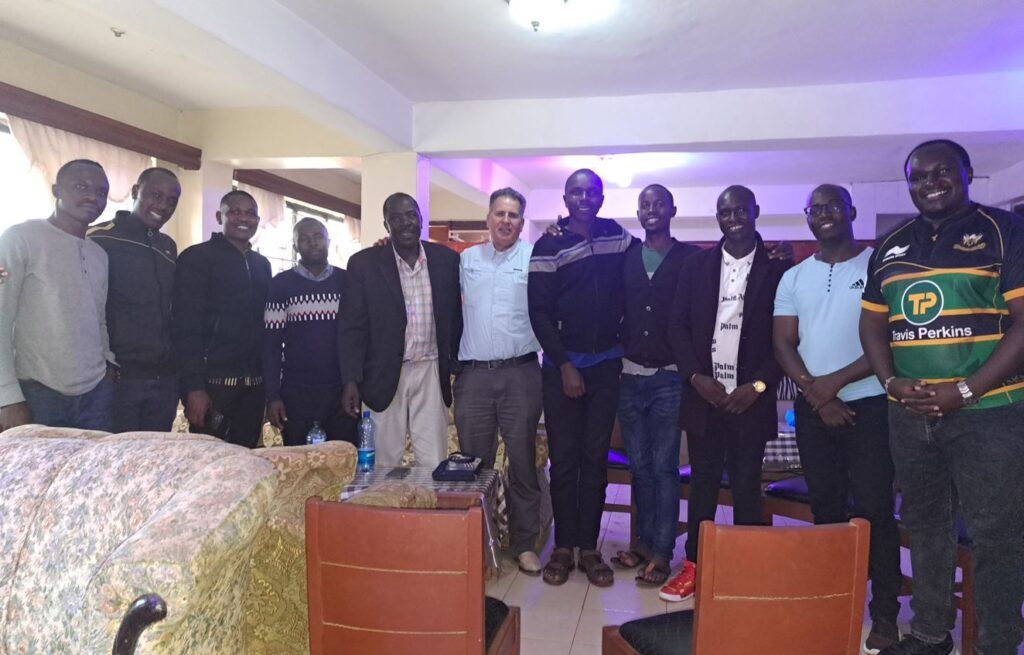 Kisii, KenyaGod bless Pastor Joseph (on my left) from the church in Kisii! He hosted Bishop Obed, Brothers Nicolas, Warrens and I by giving us each an individual hotel room and a good meal at the restaurant.I did a short teaching for the men on responsibilities of leaders in the Church. We are planning with Pastor Joseph to host a Gifts of the Spirit course in March 2024. Praise God!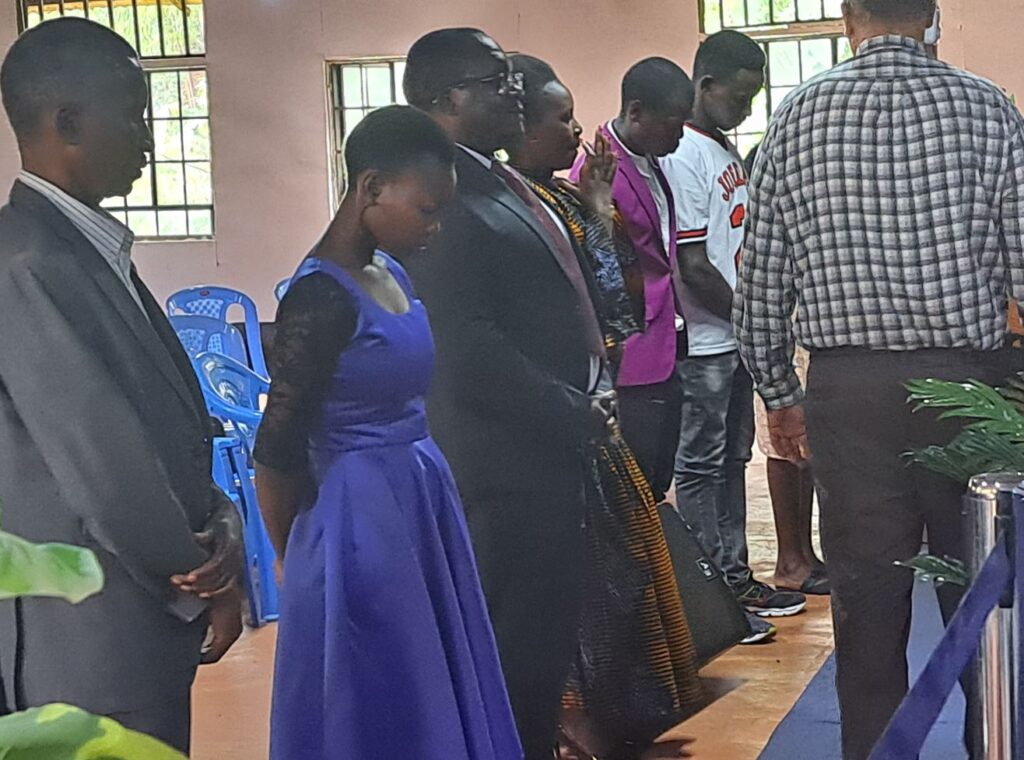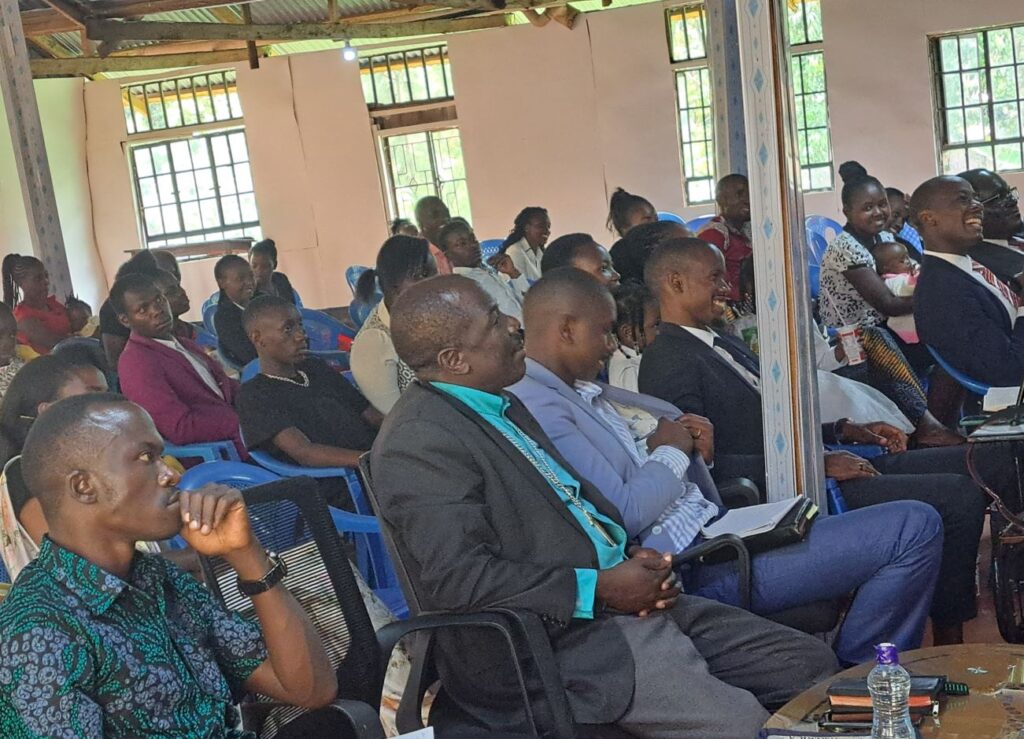 Kisii, Kenya. After giving the message of Faith several came for the baptism of the Spirit, the gift of tongues, then others came for healing…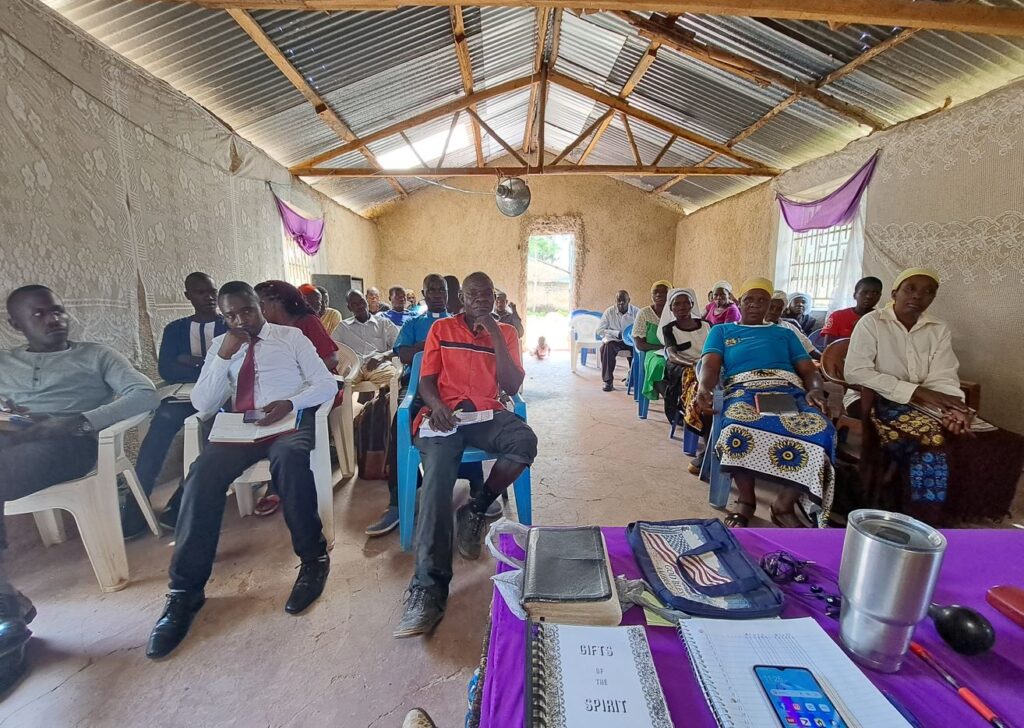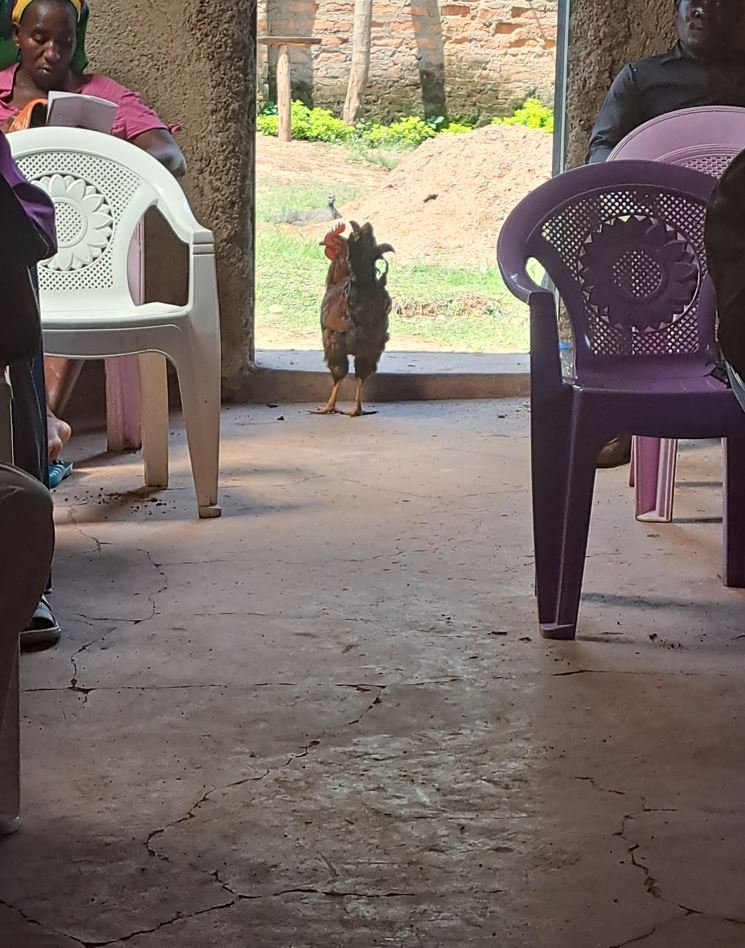 Kakamega, KenyaBack to the Gifts of the Spirit course teaching and training with our daily two legged visitors…
Kakamega, KenyaI was invited to speak on the Christian radio station 101.7 in Kakamega by Bishop Josphat one of the Gifts of the Spirit students…(wearing the red, white and yellow cap, Bishop Obed is on my left, our radio host is on my right).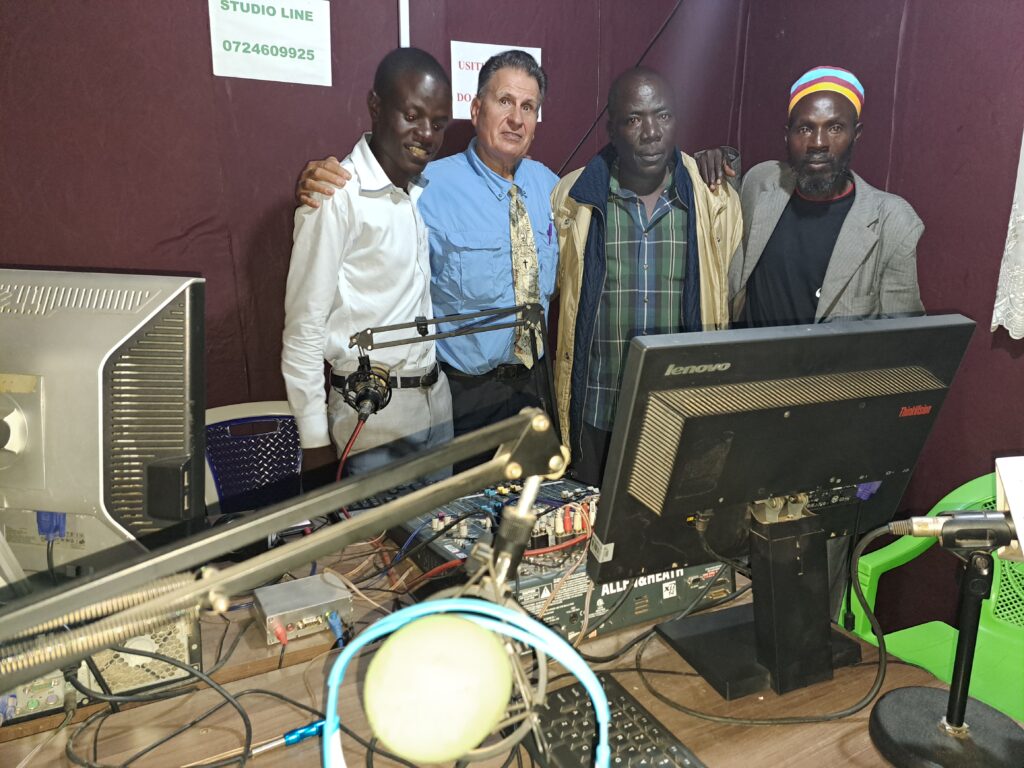 After teaching on the radio on, The Judgement Seat of Christ, we made a time for callers to ask questions, one man asked about going to Heaven do you need to tithe or go to church? I said no only believe and accept Jesus Christ as your Saviour! Praise God!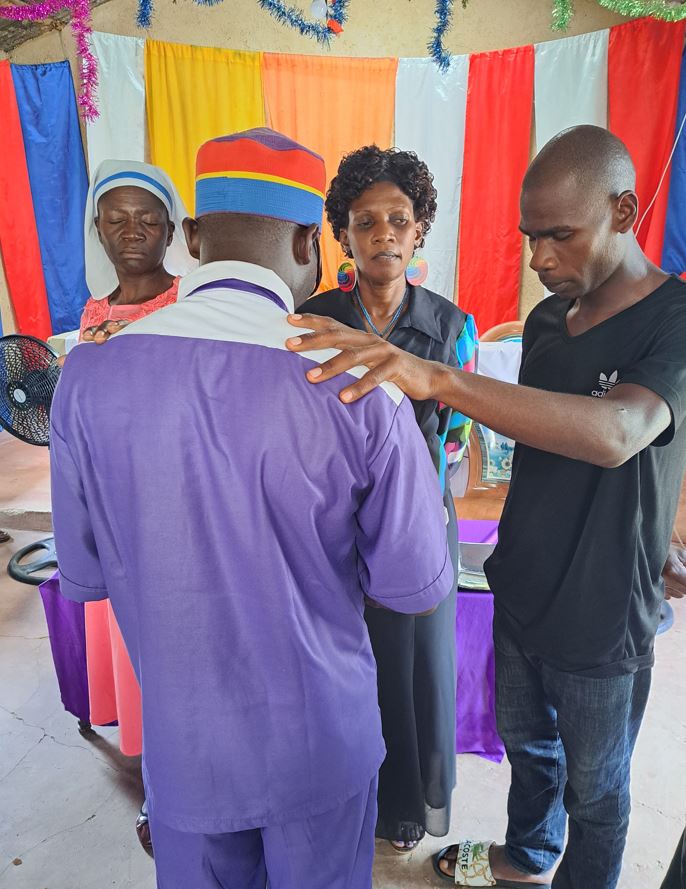 After the students were led into speaking in tongues and interpreting daily, finally they were led into exercising the other eight gifts of the spirit…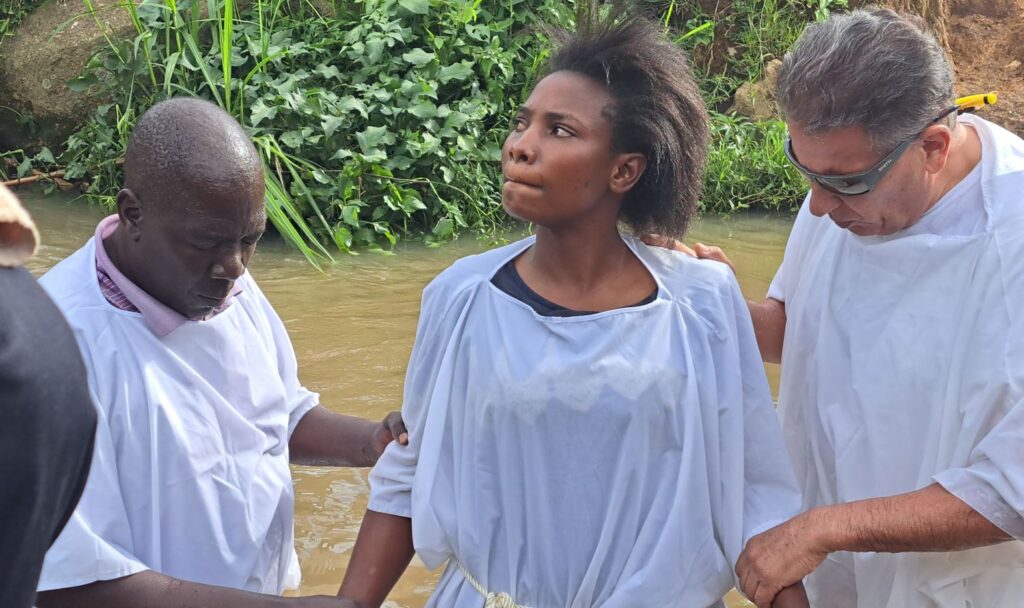 Kakamega, KenyaSeventeen believers on Christ were prophesied over then water baptized one by one…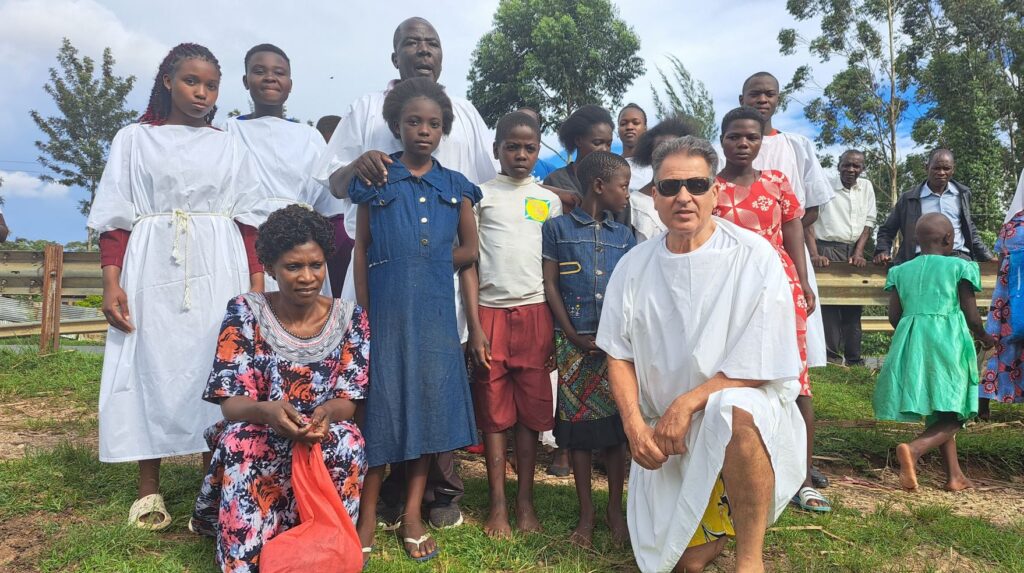 Kakamega, KenyaHere are the 17 who were water baptized with Bishop Obed who helped me, and Sister Everlyn who interpreted for me…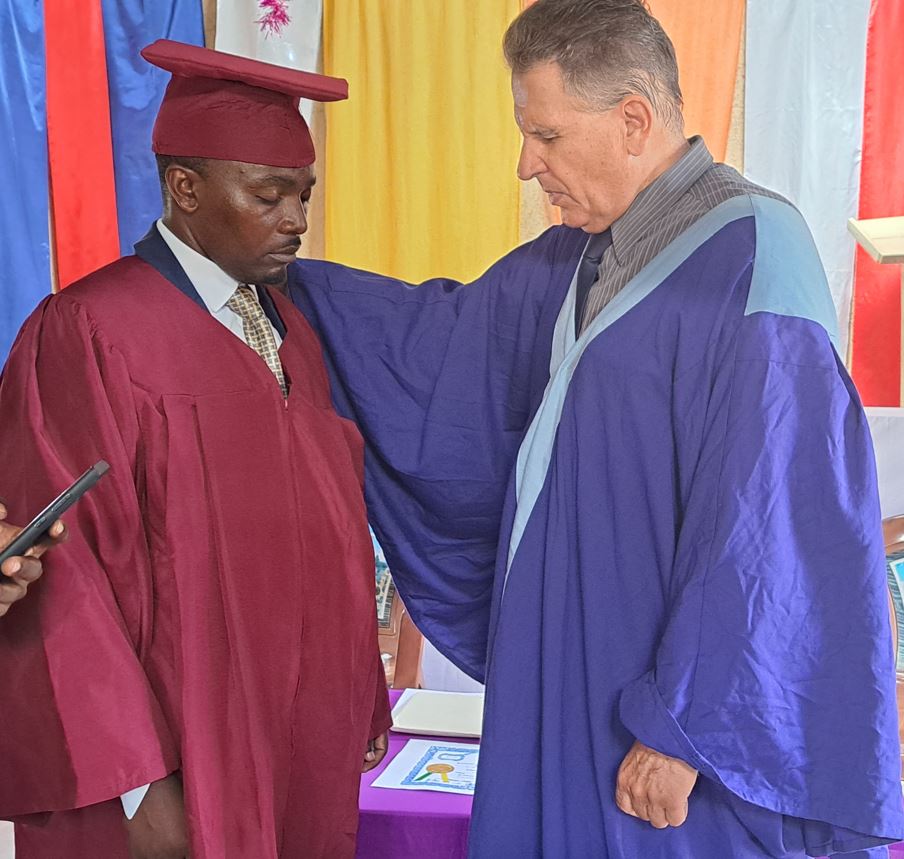 Kakamega, KenyaPraise God! Praise God! Graduation day of the Gifts of the Spirit ! Prophesying over each of the 38 students then our class photo! Four of the students came from Uganda!